Standing Tech Company Now Featured on Clutch
By: Jenna Seter, Date: 24/Apr/2019

The mobile platform has quickly become a beloved medium, keeping users endlessly entertained and helping businesses connect with their clients in new and meaningful ways. Countless businesses have decided to try and capitalize on this development, but many have failed to understand the importance of quality development and design in executing their mobile vision.
We are proud digital partners to firms of all shapes and sizes, helping them develop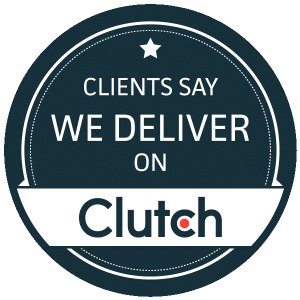 mobile solutions to address a wide variety of unique and pressing issues. Through our efforts to help our clients we have come to be regarded highly among top mobile app development companies around the world, and we are featured as so on Clutch. Clutch is a provider of ratings and reviews for B2B service providers, using detailed market research to identify top firms in dozens of industries. Their aim is to help businesses make more beneficial partnerships with their vendors, using research on factors like marketing presence, previous work, and client reviews to help them find the perfect fit.
Although the research conducted by Clutch analysts helped us become regarded highly in our industry, the interviews they conducted with our clients are where we really shine. These interviews were conducted to gauge the quality and value of the work we completed, and we are pleased to share that in our short time on the platform we have already received two verified reviews. We maintain a perfect rating of five stars thanks to reviews like this,
"In terms of software development, they were professional and dependable. Whenever we asked for support, they sent someone to solve the issue. They were also cost-effective, delivering all of our requirements while remaining under budget."
IT Manager, Outpatient Medical Center
The chance to receive these detailed and verified reviews is something we greatly appreciate, and we recognize the opportunities they provide us with. They serve as a way for us to identify our strengths and weaknesses, and we look forward to using them to continue to grow.

In addition to our presence on Clutch, we have joined other top app developers in creating a profile on Visual Objects. Visual Objects is a sister-site to Clutch, allowing service providers to post portfolios and share examples of their work with prospective clients. We are hopeful that this expansion to our digital presence will help us reach new audiences and convey the importance of quality mobile development.
We are incredibly proud of everything we have accomplished, and all of the ways we have helped our clients, but we recognize we could not have done it alone. Thank you to everyone who has helped us and supported us along the way. Our partnerships mean a great deal to us, and we cannot wait to keep building them.