By: Vareen Azad, Date: 25/11/2018
Database is a self-portraying accumulation of incorporated records. A record is a portrayal of a few physical or calculated protest. It contains its very own portrayal structure. This portrayal is called metadata - information about the information. The database is incorporated in that it incorporates the connections among information things, and in addition including the information things themselves (Kroenke & Auer, 2007).
Nowadays, many companies use online databases. Online database is a record of logically related information, recorded in computer files in a uniform form to facilitate easy and efficient retrieving of data by means of internet or communication networks.
The database will be linked to the web server called Structured Query Language (SQL) server is a popular database software for database-driven web sites with high traffic. SQL Server is a very powerful, robust and full featured SQL database system. Standing Tech Company can develop complex database for any business and then developing web-based application customized for the business workflow and procedures. Standing Tech as Software Company created many databases for different types of businesses in Iraq and Kurdistan Region, for example: Point of Sale System (POS) for Pharmacies, Warehouse Management for Food Distributors, Customer Relation Ship Management, Finance and Accounting, Letter Archive System, etc. Also Standing Tech Company offers database managed services that include Oracle database support, Microsoft SQL Server support, Oracle E-Business suite support, and independent software vendors support; and professional services that include Oracle Database consultancy, SQL Server consultancy with fully managed or hosted IT systems, and offers professional consultancy services.
Why companies need database?
Analysts can use Excel to do a lot of their day-to-day jobs so most financial processes involve a lot of Excel workbooks. Notwithstanding, there are some regular information issues behind all these Excel procedures. A single Excel exercise manual can link to various Excel exercise manuals and each connected exercise manual can link to more Excel exercise manuals. Information is copied in many Excel exercise manuals. There are likewise cases that clients simply reorder information starting with one Excel exercise manual then onto the next exercise manual so information may not be constantly reliable. It is extremely tedious for any examiner to comprehend the information stream and the monetary procedures.
Exceed needs to stack every information into memory before it can process the information so it isn't exceptionally versatile, e.g. it can require a long time to process on the off chance that it attempts to query information from tables that each have a couple of hundred thousand records. Likewise, Excel workbook regularly have the least security in light of the fact that there are simply too many Excel workbooks. It is likewise hard to actualize security when the information and procedures (or estimation) are so firmly fixing to one another in the Excel exercise workbook. For companies that has a lot of data, will be little hard to use excel because of some problems:
Excel can't manage visual content
Many companies has products and recorded data which are more than just words and numbers. They have images, videos, manuals, and other media that matches them. Database would let you create relationships between all of those things. Excel, unless you are hard-pressed to link URLs, does not have that capability in an elegant, useful way. URLs also don't allow you to see the content, so knowing what you have linked quickly becomes cumbersome.
It isn't your single source of truth
Companies cannot use multiple spreadsheets a single, reliable place where you can go to find product information. Because if you can't have your visual content and your product data together, there is already a problem. But the other real problem with spreadsheets is that they aren't exactly collaborative. A real product database would give you and your coworkers a place to access and edit information from a single, centralized place.
Hard in Filtering and finding data
You would expect, at the very least, that a database could help you find information fast. But in excel its hard so with these limited functions, it makes filtering and finding information quickly a pain. A good database will not only have a solid search function but also give you the capability to stack filters to find exactly what you want.
Oppositly, Database is actually very similar to Excel workbook.  Databases store data in table (worksheet) and tables have records (rows) and fields (columns).  But worksheet in an Excel workbook can only store one million rows where tables in database can store billion, trillion...records.  database has some component like:
Index is a set of columns that can quickness the records retrieval time,
Query is a logical presentation of physical data; a query can make up of numerous tables,
Referential Integrity allows data authentication
Another advantages of database for organizations is providing central security, backup and restore, performance tuning and other vital signs monitor. If all the data is centrally stored in a well-designed database, then there would be no duplicated data and data is always consistent. Managers and business owners can start their analysis whenever they want, they no longer need to look for data, transform data, or validate data; the data is always ready to use.
Advantages of using database
Data management system is needed for data access within the company
Modern database management systems are reliant on a programming dialect that is called organized inquiry dialect. This dialect is then used to access, refresh and erase information that are available inside its tables. The database frameworks additionally contain programs that incorporate Microsoft's SQL server and the open source MySQL questions that empower outside projects to get to its information through SQL inquiries. For instance, a page can show data or information that incorporates item information and portrayal, photos and costs. This data is effortlessly accessible to the client effectively, when the web server programming is associated with the social database administration framework.
It is needed to maintain strong relationships between data
One of the most important functions of relational database management systems programs is that it allows different data tables to relate to one another. At the point when a database contains data about representative information on its item deals in a single table and another table contain data one with deals worker information, at that point a social database will be flawless to deal with their connections in an efficient and straightforward style. This framework thusly can help mark supervisors to comprehend imperative measurements like which salesman can offer the most or which item is being sold by a specific sales representative.
This system allows newer and better updates
A helpful and profitable database administration framework permits mark chiefs to enter fresher data as well as refresh the present data and furthermore erase data that they don't require. For instance, when a sales representative can offer 1,000 units, at that point that individual can enter that exchange data in the social administration framework which can incorporate certain subtle elements like the individual's name, client data alongside the item and number of items sold by the client. The social database administration framework will enter the new records and refresh all the required data, in this manner enabling brands to track and offer their items in a compelling manner.
It helps brand managers to search data in a better manner
The database management system also allows brand managers to sustain and build their data over successive years. The various tables in the relational database management system allows brand managers to search through their entire system for a particular information. The company manager discovers any data that they require, utilizing a specific criterion. This is likewise accessible for clients who can scan for any component that they need including value, shading and brand. By putting away data in an anticipated and successive organization, it empowers clients to discover the data they require without hardly lifting a finger.
With so much data accessible for organizations, putting resources into a database administration framework is of basic significance for brands over all divisions and gatherings. Today, for all intents and purposes all organizations and brands keep running of database frameworks. These storage facility of composed data can assist brands with storing data of numerous sorts, which they can't simply sort yet in addition make accessible at the snap of a mouse too. To put it plainly, database administration frameworks assist brands with tracking all aspects of their business in a quick, powerful, proficient and effective path than any time in recent memory.
The use of database in departments
For example, an organization's HR office utilizes the database to oversee representative records, appropriate legitimate data to workers and make updated employing recruitment reports. A manufacturer may utilize this sort of framework to monitor creation, stock and circulation. In the two situations, the database administration framework works to make a smoother and more sorted out workplace. Utilizing a HR database to oversee staff records can spare you time and cash. It can streamline the majority of the HR errands, mechanize routine employments and accelerate the handling of information, for example, staff hours, leave, benefits, finance, and so forth. This can abandon you more opportunity to center around developing your business.
logistics and warehouse department uses DBMS for managing inventory well can irregularly feel like a balancing act. It's anything but difficult to have excessively - sitting on a rack gambling wastage, or too little - frustrating your clients and harming your notoriety. In case you're following your stock physically, it's likewise simple to miscalculate, make information passage mistakes or lose spreadsheets and notes. By utilizing a stock following database, particularly close by electronic information trade and scanner tag filtering, you can stay away from those dangers and limit lost deals while boosting your chances for development.
Finance department can benefit from DBMS by utilizing it in a bookkeeping data framework fundamentally tracks back and bookkeeping related exercises that are basically utilized for vital arranging and basic leadership. So in the event that we come by that essential depiction, it would fundamentally be sheltered to expect that there is a few information included that must be gathered and sorted out to hold great openness. This is the thing that a database stands and exists for. Corporate back groups have long outgrown the conventional jobs of just adjusting books and spending plans as they have gone up against more logical key administration assignments. Their experience and knowledge into the market and their organization give fund pioneers a beneficial position in seeing how best to direct the organization to develop and address new corporate difficulties.
At the point when every division has its own information composed, it very well may be joined across the board programming for better utilized called Enterprise resource Planning (ERP) programming institutionalizes, streamlines, and coordinates business forms crosswise over fund, HR, acquisition, conveyance, and different offices.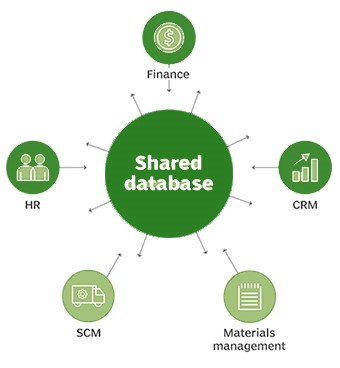 Usually, the software operates on an integrated software platform using common data definitions operating on a single database. The central feature of all ERP systems is a shared database (relational database) that supports multiple functions used by different business units. In practice, this means that employees in different divisions like accounting and sales can rely on the same information for their specific needs. ERP allows interconnection with databases (Microsoft SQL, Microsoft SQLite and Microsoft Access). It enables linking information management systems advanced such as SAP, Microsoft Dynamics, Sage, ABAS … and recycle the information in the system to expand project quality from reliable data that allow us to guarantee the development of more effective projects to improve the productivity of our engineering during the process of design.
Planning for growth
Most business databases have some form of reporting competences – from investigating input data and productivity tracking, to anticipating future trends and customers' needs. If you're planning a strategy for growth, a robust database system can be your business' most valuable resource.
References
Date, C. J. (2003). An Introduction to Database Systems, Fifth Edition. Boston, MA: Addison Wesley.
Kroenke, D. & Auer, D. (2007). Database Concepts. 3rd ed. New York, NY: Prentice.
Web Database Applications with PHP and MySQL, 2nd Edition. O'Reilly | Safari. https://www.oreilly.com/library/view/web-database-applications/0596005431/ch01.html. Published 2018. Accessed November 17, 2018.
Elmasri R, Navathe S. Fundamentals Of Database Systems.
Ho S. Use and organizational implications of database systems. ACM SIGMIS Database. 1984;16(1):27-36. doi:10.1145/1113511.1113515
Bitsini N. Investigating ERP Misalignment between ERP Systems and Implementing Organizations in Developing Countries. Journal of Enterprise Resource Planning Studies. 2015:1-12. doi:10.5171/2015.570821