Developing an application whether it's Android or Ios becomes the most essential part of any business. The highest market goes with Android while Ios has a number of devoted clients. However, the demand for Ios users has increased to a mass number. Moreover, mobile apps have tended to be the present, future, and past for a while. As per Statista, the apps are going to generate more than $935 billion by the year 2023.
In the Apple app store, there are more than 2.2 billion applications. As the business requirements are constantly changing, it is necessary to keep up with the latest trends and upgrade the skill set. The increase in demand for Ios programmers and the digital revolution led to the emergence of Ios app developers.
Moreover, the cost of mobile features such as paid apps, iCloud storage, etc is still greater. Due to it, businesses are searching for Ios developers that help them to create a top-notch application that is a great option to generate revenue. In this article, we will answer your few questions that will let you make the best decision possible.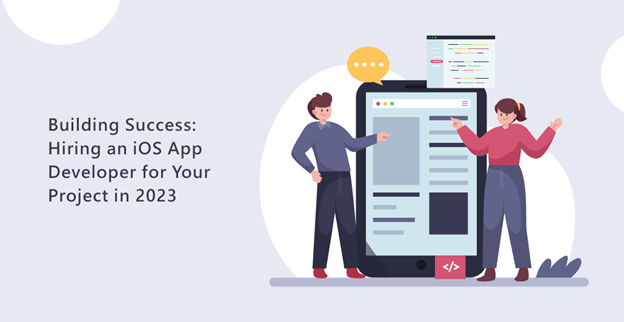 Why is Ios development important for business?
Ios consumers will stick to their decision, once they have started using it. Some of the salient features like great hardware, excellent customer service, and outstanding software, are the true indications that will make sure that the application won't crash on other platforms. Therefore, every software will run smoothly without any malfunction.
Apart from that, the trends that change with every version of Ios makes the product more cost-effective, simpler, quicker, and better programming time. This had made the Ios development services more crucial over going years. In addition to the programming languages used to create iOS apps, several new features have been added.
For many enterprises, Swift 5 has been the language of choice. By the by, scalability, adaptability, economics, and security are the essential advantages. The Consistent Application Binary Interface, often known as ABI, is the language's frequency. Swift and associated libraries are anticipated to be featured in most iOS, macOS, wearables, and tvOS devices, based on current trends.
Skills like knowledge of ARKit and AR- Augmented Reality are two contemporary application development topics that have been on trend for many years while hiring an Ios app developer. The use of ARKit is a reality composer that is important to use while creating AR-based iPhone apps.
Points to consider while hiring an Ios developer for your project
Now let's explain each of the points in detail:
Know the project
You should know every aspect of the project, in this way you will be able to pick out the right developer that is eligible for the job. The whole picture of the project should be in your mind. All the ways should be clarified that meet the door of success, for instance; every minute detail that makes the door towards success. A thorough meeting with team members that suggests the required skills and technologies in the hiring process is a good way to go.
In-depth knowledge
Technical skills such as coding skills, extensive knowledge of creating apps that are compatible with many versions, and a complete check that helps the developer to build interactive apps. While hiring an Ios app developer, a roadmap regarding the target audience, the programming languages required to develop the app, user interface, security options, and development factors that turn your ideas into reality should be considered.
Teammate
The concept of "all in one" doesn't work in every situation. There come circumstances when the engineer is ill or unavailable due to specific personal reasons. Therefore, a team is necessary that takes the project ahead. No matter how much big or small your project is, a person who is a good team player is worth hiring. You should check with the developer whether has worked in a team and knows to communicate clearly with other teammates for the project.
Previous project portfolio
Ask them about their portfolio in which you can understand their level of expertise. The portfolio also consists of the same apps that might be developed earlier or that you are finding. You may even download their applications, or if feasible, contact the app's owner or read the reviews to learn about the user experience.
Even if the applications they design do not meet your requirements, you may teach them what you are looking for and, if they are confident and capable, you can engage them on a trial basis. This step will give you a better understanding of the developer or his working patterns while developing an Ios application.
Role in the project
Before hiring the developer, the roles and obligations of the applicant should be outlined so that they may consider their skill set to be relevant to the project. You will get a good developer if you hunt for a skill set such as knowledge of the Ios framework, proficiency in objective-C, and a good teammate that works with all the team members in coordination.
The candidate should collaborate with the design team to explain the features or UI required. A check on the quality and performance of the application is a must. He should be an expert in publishing apps on the app store. Application coding and automation must be appropriately handled. The developer should create and deploy application changes on a regular basis.
Understanding the Ios ecosystem
If the developer wants to be in a reputed Ios app development company, a proper understanding of the Ios ecosystem is pretty much important. The meaning of ecosystem here is having knowledge of products and services that are essential. A detailed understanding that draws the consumer's attention towards the product should be taken into notice.
This kind of knowledge will help the developers in creating user-friendly Ios applications with the latest features. For example, when Apple debuted the iPhone in 2007, which runs Ios, customers perceived something more secure and user-friendly than a Blackberry or Nokia phone. Therefore, a developer should be updated with the latest features that are necessary for Ios development and why users use them.
Remote working abilities
The developer should be able to work remotely if required by the company and should ensure timely delivery. There is a constant rise in demand for freelance developers across the world and developers prefer to work remotely than in-house jobs. It reduces the communication cost of developers and office costs for the company which makes it the most viable option.
In this case, the developers can work flexible hours and complete the work within deadlines. The companies can also assign work without restrictions. Ultimately, it can be said that remote working is great for both parties.
Knowledge of emerging technologies
Emerging technologies must be known by developers in order to improve iOS development in the long run. The AR kit, on the other hand, is an augmented reality development platform for iOS mobile devices utilized by well-known businesses such as Ikea. This kit helps developers to build high-end AR experiences for both iPad and iPhone.
Other technologies, such as a machine learning kit, may be employed in iOS programming, such as Core ml 3, to provide high performance by using CPU, GPU, and neutral engines. An Ios application developer should have a proper understanding of emerging technologies of 2023. The developer, in this way, will be able to create interactive and user-friendly apps.
Human interface and design guidelines
Apple creates design and human interaction guidelines that all iOS developers must adhere to. This guideline provides key insights for designing more intuitive and engaging interfaces. Moreover, Ios developers should have access to many UI sources for Apple platforms. The rule of designing the Ios development is that all the Ios developers have the same level of quality.
Conclusion
In the case of Ios development, recruiting skilled developers and planning a team on a particular project is tedious work. Therefore, while Ios application developers; the managers should know the inside out of the project and development costs. Even if you hire an Ios development company, that has in-house developers that are having above-mentioned skills, you can view your project at heights.
You should have a clear idea of your development provider's experience, whether to employ a freelancer or outsourced for your development firm. Make sure that you know the work method and expenses that are among the important elements.
Many outsourcing companies have a skilled developer for large-scale projects that are providing great opportunities to developers and freelancers who are looking to hire quality Ios developers in 2023 and make you avoid the pitfalls that occur in many businesses.