By: Melody Kourieh
07 Jul 2021
When you found your car or motorcycle stolen outside your home or your office, calling the police is a possible method, but in fact, what the police is able to do apart from log the event for insurance purposes? The police will take care of the car or motorcycle but they will not pay much attention to it and the helicopter will not get involved unless the thief uses the lost car or motorcycle in the course of committing another offense, such as a robbery, or drives the car or motorcycle in such a manner that draws attention to it. We all know that commercial tracking system is quite expensive, so why don't you take this matter into your hands and build your own tracking system? Having your own web-based mobile GPS tracking system doesn't have to be a complicated and expensive ordeal. Now you can build your own simple mobile GPS tracking system from a laptop and have the data delivered, via Internet, right to your own computer. And this is one of the most needed services that Standing Tech Company provides in Kurdistan region (Erbil, Sulaimaniah, Duhok) and Iraq.
GPS (Global Positioning System) technology is a common tool that is used throughout today's world. For instance, GPS tags can be found in modern smartphones, satellite navigation systems, and in the microchips of household pets, a GPS device can provide an exact and real-time location of the physical item that is being tracked. This makes GPS technology an ideal solution for tracking the location of vehicle fleets, especially in Iraq.
Using GPS trackers for tracking fleets can also incorporate the monitoring of business vehicles, which helps to optimize and enhance business operations.
GPS is used to track a vehicle's location, as well as the speed and direction in which it's traveling. Sensors can pick up driver activity, such as sharp braking, increased acceleration and dangerous cornering. Along with vehicle activity, such as doors opening and the monitoring of trailer temperatures. And engine diagnostics can provide real-time data about faults, warnings, fuel consumption and efficiency. In this way, we find that this technology helps to increase companies' revenues and reduce their expenses, in an elaborate and thoughtful manner. And one of the most important companies that do this in Kurdistan region of Iraq is Standing Tech Company, it provides you with all the services and equipment related to the location tracking system, by choosing this company, you guarantee that you will get the best service to track the locations of your company's cars, as well as all the information related to cars, their speed and location and a lot of other information that may benefit you in your work and reduce the costs of following cars in the traditional way and thus reduce the company's expenses.  GPS is a leading technology in fleet telematics, helping businesses to obtain essential data regarding individual vehicles or large fleet operations. Modern GPS tracking tools work through cloud-based platforms in conjunction with GPS trackers, which are affixed to a business's fixed assets. In this case, vehicles.
The Benefits of Using a GPS Fleet Management System
Improve Cost Efficiency:
By implementing a GPS fleet tracking system, fleet managers are able to get a detailed view of all company vehicles in real-time, and this is one of the most crucial features that Standing Tech Company provides. This data can then offer a wide range of benefits for fleet management companies, including:
Locating a fleet in real-time, both globally and locally.
Extensive routing and mapping capabilities.
Gathering analytics to help identify idling, speeding, and unauthorized use.
Analyzing data regarding maintenance and repair schedules.
The ability to log and create accident reports.
Detailed notification alerts for employees and customers.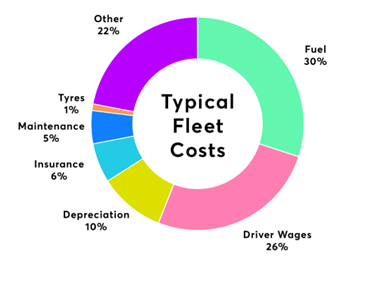 Tracking fleet vehicles can also allow businesses to see how much they're spending as a cost per mile. As well as how much they're making in terms of revenue per mile. Businesses can then benefit from collecting data such as distances traveled, arrival times, and stationary hours.
Improve Customer Satisfaction:
A key benefit of GPS tracking tools for businesses offering a face-to-face customer experience is the effect it has on improving customer satisfaction levels.
For instance, a courier company that uses GPS data can provide its customers with real-time delivery updates and shipping notifications.
Not only does this let customers know where their parcel is in transit, but it can also notify them when their parcel has been dispatched or delivered.
Quickly address vehicle problems:
One of the biggest challenges faced in managing a vehicle fleet is dealing with unexpected repairs and maintenance. Dashboard warning lights sometimes go unreported by drivers, and so a smallish vehicle fault can often turn into something much bigger and more costly.
Fleet telematics has the capability of alerting you instantly when a vehicle fault occurs. A telematics device can transmit details about battery condition, warning lights and fault codes. Your software will then trigger a notification, instantly alerting you to the problem.
Used for this purpose, fleet telematics allow you to react quickly to problems across your entire fleet. This helps to keep vehicles on the road, and not out of action for any longer than necessary. Depending on the severity of the issue, you can arrange for faults to be fixed when there will be less impact on operations. Overall reducing costly vehicle downtime.
A good fleet management system will also link information relating to vehicle faults into work orders. Your maintenance team can get a clear picture of issues before work starts, effectively speeding up the entire process.
In conclusion, A fleet management solution with advanced technology and revenue orientation will drive up profitability and help in expansion. Some organizations feel that new technologies would displace the existing system. But they can opt for a fleet management solution that seamlessly integrates with the existing system (across the supply chain), so if your company is located in Iraq or Kurdistan region, then no one can help you to get all the benefits of GPS services as Standing Tech company can do.